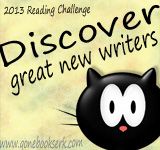 <a href="http://www.gonebookserk.com/2013/01/discover-great-new-writers-2013.html" target="_blank"><img src="http://i1059.photobucket.com/albums/t424/Elemillia/DISCOVERGREATNEWWRITERSCHALLENGE_zps1ceda911.jpg" alt="Gone Bookserk" width="125" height="125" /></a>
This challenge was inspired by the
Barnes&Nobles' Discover Great New Writers
and is intended to explore these novels but it is not limited to.
Ultimately, I have been meaning for a long time to discover new writers, and this is a great opportunity to make that happen this year. I hope that some of you will join me on this challenge.
HOW THE CHALLENGE WORKS:
1. You do NOT have to have a blog. I just simply ask that you have a place where you can review the books you read so that we may see your thoughts on it. Afterwards just upload the link of your review to the bottom of this page with the SIMPLY LINKED.
2. If you have a blog, please post an entry post to let us know what challenge level you'd like to attempt and link back to this post so that others may enter as well. Again, after you've reviewed your books upload the links below this post.
All links should be in the following format:
NAME OF BLOGorSITE/BOOK REVIEWED
3. This challenge is to explore NEW WRITERS, present or past. NO REREADS, please. Only FIRST NOVELS by NEW AUTHORS that you HAVE NOT READ before. Visit the website above at Barnes&Noble for all included options of Discover New Writers, or if you want to go outside that list just stay within the confines of NEW AUTHORS and their FIRST novels.
Lastly, books CAN be of
any genre or of any format!
HERE ARE THE LEVELS:
1. Read 1-3 books from
Barnes&Nobles' Discover Great New Writers
or outside of these books that are NEW FIRST books by NEW AUTHORS
2. Read 3-5 books.... same as above....
3. Read 5-10 books... same as above...
MY GOAL:
is to read at Level 2 specifically books from the Barnes&Noble selections.
ENTER BELOW & POST YOUR REVIEWS below: